PATTON SN4171/1E30VHP/EUI SmartNode 1 E1/T1 PRI VoIP Gateway
PATTON SN4171/1E30VHP/EUI SmartNode 1 E1/T1 PRI VoIP Gateway
Brand:
Patton
Product Code:
PTTN-0015
Availability:
Please Login
Patton SN4171/1E30VHP/EUI is the next-generation ISDN T1/E1 model of the proven market-leading SmartNode VoIP product family. Fits perfectly the requirements of small & medium-sized enterprises looking for cost-effective ways to bridge PBX systems on multiple sites or connect them to a public Internet telephony service. SmartNode's unique high-precision clock delivers first-line IP telephony service in demanding ISDN & DECT environments, along with reliable FAX & modem performance. Providing one T1/E1, one Gigabit Ethernet port & up to 30 VoIP calls, the SN4171 delivers a reliable, cost-effective solution for the Enterprise. It is a state-of-the-art VoIP gateway that includes the built-in WEB Wizard for fast & easy configuration. You can build your own WEB interface using the WEB Wizard functionalities. The SN4171 is also the solution for service providers & network integrators looking for a VoIP product that matches up to ISDN standards interms of features & quality. Patton SmartNode products provide seamless network integration, continuous trouble-free operation & cost effective deployment to protect your investments for the future. Preserve investments in legacy phone equipment while taking the next steps toward unified communications with the SN4171 VoIP Gateway.

Key Features & Benefits:
1 x ISDN PRI T1/E1 port
Configurable TE/NT mode
Up to 30 VoIP Calls not upgreadable, or 15 SIP-SIP calls (SIP b2b UA) upgradeable (max. 200)
Optionally SRTP support for 30 calls
Full Telephony Features - SessionRouter allows flexible call routing & numbering plan adaptations, CLIP/CLIR, hold, transfer, 3-way conferencing (Roadmap) and much more
Management & Provisioning - Web-based management, WEB Wizard, SNMPv3, command line interface, auto-provisioning, separate config domain support, secure provisioning for configuration & software upgrades
Network Connectivity: 1 x 10/100/1000 Ethernet port with auto MDI-X Ethernet
1 x USB port
Supports VLAN, TOS & Diffserv tagging
Basic IPv6 support
Full VoIP protocol support - SIPv2, SIP v2 over TLS, ISDN, DSS1, NI-2, QSIG, T.38, G.722 HD voice, RTP Security with SRTP, fax & modem bypass, DTMF relay
Outstanding Interoperability - Interoperable for voice & T.38 fax with leading SIP service providers, soft-switch vendors & various IP-PBXs
Class A Compliance - All models with external (EUI) power supply
High Precision Clock (HP) Option - DECT PBX interoperability & improved fax performance with Stratum 3 CO quality clock (HP)
Supported by SmartNode™ Redirection Service - A free service enabling zero-touch mass deployments for Service Providers and Distributors with auto-provisioning servers
Made in the USA
2 Year Warranty

PartnerNET Patton SN4170 Series Datasheet
Network Integration:
Patton SN4171 provides excellent VoIP & Security features for seamless network integration.
The T1/E1 PRI port is configurable to be TE or NT, you can connect your PSTN line or an ISDN PRI PBX. For business class IP telephony at the tip of your fingers, the Patton SN4171 is more than just talk!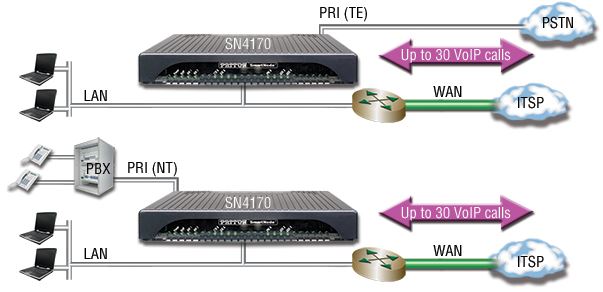 Specifications
Manufacturer
Patton
Product Type
Box
Modular
NO
Technology
ISDN-PRI
Rack Mount
YES
Max. Concurrent Channels
30
Cloud managed/ monitor
NO
Network Ports
1
Warranty
2 Years
Upgradeable
YES